We are in the midst of a viral pandemic the likes of which we have not experienced. However, we are also in the middle of an emotional pandemic, namely stress.
Stress is one of the world's most serious social and health problems. Over 70% of the public experiences some form of stress symptoms.
For industry, stress is a multi-billion-dollar problem because of stress-related workplace accidents and frequent occupational illnesses and occupational illness claims.

Stress and its many derivatives remain a psychological and physical drain on people and compromise happiness and well-being. While the health of individuals declines, so does their productivity.

This state-of-the-art, one-of-a-kind program, bolstered by extensive scientific research, will provide you with the opportunity to acquire the skills of a Stress Master which primarily includes "exercising your mind" in a unique way so that you manage stress more effectively and enhance your health and well-being.


---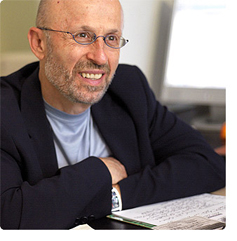 The "Stress Master - Exercising the Mind" program was created, developed and prepared by Dr. Sam Klarreich, who has a distinguished career that spans more than 35 years as a psychologist, author, advisor and senior level consultant.

He has provided service and counsel to leaders in numerous public and private sector organizations across North America.


As well as receiving many awards and honours and being a popular international speaker, he has written numerous professional papers, had timely articles in major newspapers and business magazines on a variety of health-related topics and has 8 books to his credit.

You will receive two email confirmations from the SmartDirect system upon completing your purchase. One email will include your receipt of payment, and another separate email will include your login and password.

You may commence taking the "Stress Master - Exercising the Mind" upon receipt of the login and password email.
If you do not receive the confirmation message within a few minutes of signing up, please check your Spam folder just in case the confirmation email got delivered there instead of your inbox. If so, select the confirmation message and click Not Spam, which will allow future messages to get through.
You can start immediately or you can come back at a later time to complete the course.
This course should be of particular interest to:
people wanting to know more about stress and how to handle it effectively.

people worried about getting stressed.


people struggling with stress and seeking relief.
Becoming a "Stress Master" takes practice. This program helps you acquire the skills that will inoculate us against ever-present pressures and worries in the workplace and on the home front so that we become "masters of stress".
No preparation is required for this program. We do recommend that you go through the program in a quiet and comfortable location and in a setting without distractions.

The SmartDirect system allows you to pick up at the point where you leave off in the program, therefore if you wish to take a break in between the activities and exercises, feel free to do so.
This program will provide you with the opportunity to acquire the skills of becoming a Stress Master which primarily includes "exercising your mind" in a unique way so that you manage stress more effectively and enhance your health and well-being.

Participants will:
gain an understanding of the stress syndrome

.

spell out the key stressors in their life.

isolate specific unhealthy beliefs and unrealistic thoughts that hamper health and productivity.

take note of coping mechanisms that are ineffective in handling stress.

apply the breakthrough technique of counter thinking.

create realistic and logical beliefs and thoughts that promote health and productivity.

construct take charge actions that combat stress and its consequences.
This unique, interactive program will provide you with everything you wanted to know about stress and more.
the essential skills of a stress master.




stress carrier and how we became that way.




cortisol or the stress hormone that can assault our bodies and cause considerable health problems and is the reason stress has received such widespread attention.




COVID-19 the pandemic nightmare that is wreaking havoc with our bodies and minds.




good stress and bad stress, a confusing dichotomy that requires clarification.




positive thinking and why it is damaging to our health.




the science and theory behind the Stress Master program, which is based on a solid foundation of research and considerable evidence.




the stress cycle which maintains our stress reaction.




the definition of stress which we need to know before we can proceed to tackle it.




how to construct our own personal stress cycle.




the identification of coping responses that have limited or no value.




the acquisition of stress inoculation strategies including the innovative technique of counter thinking
and much more.


Course Code: MH001
$300.00