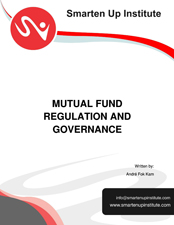 Mutual Fund Regulation and Governance is intended as a reference book. The objective is to provide a better understanding of the mutual fund industry and its regulatory environment. Recent and pending regulatory changes by both the securities commissions and self-regulatory organizations are discussed.
Topics include the defining characteristics of mutual funds and competing products, the organization of a mutual fund, disclosure requirements applicable to mutual funds, the registration requirements applicable to the parties involved, the restrictions on investments by mutual funds and on sales practices, conflicts of interest and the role of the Independent Review Committee.

You may start your online course upon confirmation of payment. Your confirmation email will include your username and password to enter the online classroom.

You can start immediately or you can come back at a later time to complete the course.

Once you start the exam portion of the course you must continue to the end. You will not be permitted to navigate back to previous pages.

This course will be of interest to persons who are:
Interested in understanding Mutual Funds
Interested in trading this product or adding this product to their portfolio
Interested in the strategies involved in this product
Industry vendors' employees
Employees of regulatory agencies
We recommend a basic knowledge of investments and the nature of an equity stock.
Benefits to the student are:
Gain a better understanding and practical knowledge of the mutual fund industry and its regulatory structure

Gain an integrated overview of the regulation and governance of mutual funds, with special emphasis on the management of conflicts of interest

Gain knowledge of the Securities Acts and the regulations governing mutual funds

Acquire practical knowledge of the operation of a mutual fund
Follow up courses
The book and course are structured into eight modules, as follows:
What is a Mutual Fund?

How is a Mutual Fund Organized?

Disclosure Requirements

Registration Requirements

Investment Restrictions

Mutual Fund Sales Practices

Conflicts of Interest

Independent Review Committee
Course Code: MFRG2022
$300.00